Portland
07/07/10 10:15
Just got back from a fantastic trip to Oregon. My lab attended the
Evolution meetings in Portland
, everybody gave a fantastic talk and we had really good interactions with the swarm of evolution geeks that, like good social organisms, found and followed trails to good brewpubs, restaurants, and other fun things in that beautiful city. Afterward, my family and I had a great time touring the city and heading out to the coast for a few days of R & R.
The only conundrum that remains from great meetings like this - aside from how to respond to all the great ideas that come from talking to so many talented colleagues - is the ugly environmental side of meetings. The organizers in Portland went to lengths to put us somewhere that required no driving, they encouraged bringing reusable cups, and Portland is an extremely green city. But the carbon footprint of flight cannot be ignored. There is no replacement for face-to-face interactions at these meetings; in particular, I'm thinking of some of the extraordinary grad students I talked with over the course of three days about their work and their future plans. But, we can't ignore the impact of air travel, which sadly negates many of the things we struggle towards with our reusable cups, cycling to work, and unplugging unused appliances. The figure below was taken from a recent story in
Mother Jones
, and makes me queasy about the 2 flights I've already committed to later in 2010, and probably another 1-2 in the next year.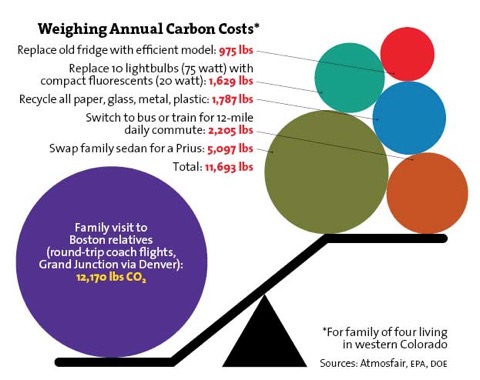 What I am going to do is something that is good for me and my family as well as for the environment. I don't like being away too much - sometimes it is necessary, but sometimes as scientists we accept invitations to do things that mean little for our
work
(and more for our egos or careers). If Steve X invites me to give a talk at Fantastic University, it may be flattering and I may gain professionally, but it is not generally critical for my life or my ongoing projects. So, I'm capping myself to 4 air trips a year. That may be tough. I may have to drive to some places I ordinarily would fly to, or figure out Amtrak in the southeastern U.S. (it isn't good, we are far behind Europe and California in this regard, look at this schedule and price for a trip to Miami!).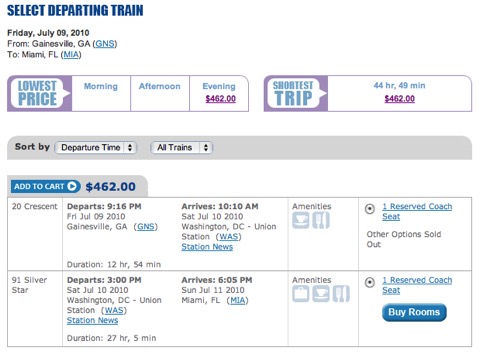 I hope my colleagues understand, but having this excuse is also good for making sure I'm home with my family just a little bit more as well.